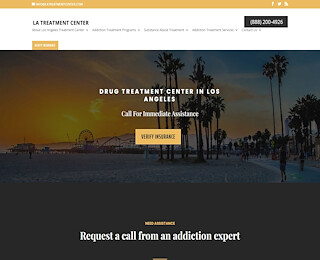 The pain and suffering associated with substance addiction are often unbearable and will soon suck the joy out of your life. At LA Treatment Center, we invite you to enter one of the most advanced programs of addiction treatment in LA; we guarantee it will change your life forever.
How to treat drug addiction?
The ideal treatment for addiction needs to include a variety of programs and medical procedures, including:
Clinical detox – We stabilize your condition using targeted medication plans, designed to flush the drugs out of your system, restore the brain's chemical balance, and eliminate the withdrawal. The procedure may last up to 14 days, depending on your recovery rate, as well as the severity of the disorder.
Medication-assisted treatment for co-occurring disorders – Dealing with co-occurring disorders is imperative when discussing long-term sobriety and healing. Our dual-diagnosis treatment addresses problems like PTSD, emotional issues, anxiety, severe depression, etc.
Behavioral therapies – The purpose of the behavioral therapies is to reshape your psychological pattern and undo the compulsive behavior. We achieve that by addressing the underlying problems that have led you on the path of substance abuse. The healing process will be sinuous, but it will transform your life.
Spiritual rejuvenation – Reviving your spirit is one of our priorities since addiction will end up destroying your ability to enjoy your life anymore. We provide a variety of experiential therapies, including group therapy, individual counseling recreative activities, all designed to revive your spirit.
Can you cure addiction?
Yes and no. The answer might seem confusing because chemical addiction is chronic in nature, which implies that there is no medical cure for it. However, there are methods to eliminate its manifestations and prevent relapsing over the years. To achieve that, you must join our addiction treatment in LA as soon as possible.
Our prerogative is to address the disorder as early as possible before it unleashes its full potential, which will make it more difficult to treat. In this sense, the cure consists of continuous management, which relies on changing your lifestyle, as well as adopting permanent relapse prevention strategies. By doing so, you will make sure the disorder will never return.
Is drug detox painful?
The detoxification process will naturally involve some degree of physical and psychological discomfort. The severity of the discomfort, however, depends on the procedure itself. At our facility, we perform advanced detox, using targeted medication strategies based on your clinical profile. This will not only reduce the symptoms of the withdrawal but also deliver faster, long-lasting results.
Our experts will supervise the process 24/7, making sure everything goes in the right direction. Our priority is to ensure the maximum of comfort during the procedure and minimize the pain and discomfort typical during the process. We advise you to join our addiction treatment in LA today, and come in for urgent diagnosis and rehab planning!
At LA Treatment Center, our goal is to help people get their lives back as soon as possible. This is your chance of defeating your addiction and regain your chance at a normal life.
Addiction Treatment LA
LA Treatment Center
(888) 200-4926
17801 Twilight Ln
Encino
CA
91316
View Larger Map