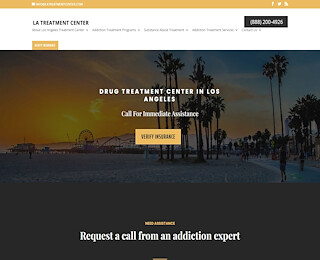 When you have an addiction to drugs or alcohol, it takes over your life. You may feel that you can stop using the substance at any time, but when you try to stop, you realize that it has a strong hold on you. That is because addiction affects the physical and mental being, making it hard to stop on your own. You need professional addiction treatment in Los Angeles to assist you in resolving the problem and getting rid of drugs in your life.
What Are the Common Drug Addictions?
There are many types of drugs that include both prescription medications and street drugs. Some of the most common types of drug addictions are to stimulants, depressants, opiates, and hallucinogens. Stimulants increase awareness and energy. Some examples of stimulants are meth, crack, and ecstasy. Depressants are also known as downers and include alcohol, tranquilizers, and barbiturates. Opiates are used to kill pain and include morphine, codeine, Vicodin, Percocet, oxycodone, and hydrocodone. Hallucinogens change the way a person perceives and feels and include drugs such as LSD and PCP. We provide all types of addiction treatment in Los Angeles.
Addiction Treatment in Los Angeles
We provide a variety of treatment options to meet your needs. When you enter our facility, we evaluate your condition and discuss your situation. Then, our experts customize a treatment program that is most likely to be successful in your case. We use different treatments, including individual, group, and family therapy, along with others. We provide you with nutritional education so you can ensure a healthy lifestyle. Our team provides you with the tools you need so you can replace negative behaviors with better choices. You will learn to handle stress and problems without turning to drugs.
What are The Benefits of Addiction Treatment in Los Angeles?
Drug addiction can hurt your life. Drugs can cause problems at work, difficulties with relationships, and can take over your life. Drugs get into your entire body and change your physical and mental state. When you stop using drugs, your body will return to normal. You will feel healthy and will be happier. You will learn to lead a balanced life that includes improved relationships, better nutrition, and a good outlook. When you leave the program, you will be ready to rebuild your life and be a productive member of society.
Compassionate Help with Your Addiction
If you feel your life is spiraling out of control, we can help. Our team of experienced professionals includes therapists, medical experts, and others who are dedicated to helping you get through your addiction. We are not judgmental, but instead, we offer compassionate and caring guidance and are available any time that you need us. At LA Treatment Center, we provide high-quality addiction treatment in Los Angeles. We have a variety of programs to help you get on the path towards recovery. Together we can get through this. We have extremely successful programs. You don't need to go it alone. Call LA Treatment Center today.
Addiction Treatment Los Angeles
LA Treatment Center
(888) 200-4926
17801 Twilight Ln
Encino
CA
91316
View Larger Map