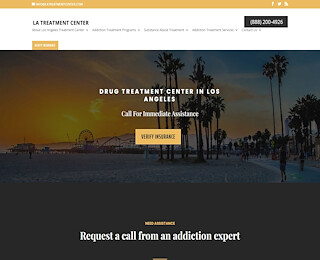 Alcohol is one of the most common types of addictions in the world. If you experience addiction to alcohol, you may have tried to stop in the past. Like any addiction, alcohol is a substance that can grab hold of your life and make your life miserable. Your work, relationships, and all aspects of your life may suffer as a result. The best option is to seek professional treatment at a leading alcohol rehab in Los Angeles.
What is Alcohol Rehab in Los Angeles?
Alcohol rehab in Los Angeles encompasses detoxification and treatments that will keep you from relapsing. Detoxification is a process that your body goes through when you stop drinking. You may have many withdrawal symptoms that may include shaking, nausea and vomiting, body aches, and more. The severity and length of the withdrawal symptoms will vary from person to person and depend on how long you have been drinking and how much you consume. In some cases, you may be able to alleviate some of the symptoms with medical detox. Medical detox is supervised by a medical professional. Once your body is no longer physically addicted to alcohol, you can concentrate on the mental aspects of addiction.
Alcohol Addiction Treatment
Alcohol has some adverse effects on the brain. When you drink alcohol, it changes the way the brain functions and increases the production of dopamine. As time goes on, the mind wants to continue getting the euphoric feelings, and therefore, you will want to drink alcohol even if it impacts your life. At our alcohol rehab in Los Angeles, we have a team of experts who are here to assist you through the recovery process. We provide high-quality therapy services that include individual, group, and family therapy options. We help you get to the root of the reasons why you became addicted and provide new and healthy choices so you won't need to return to alcohol abuse.
Can I Overcome Alcohol Addiction?
You may feel as though you will never get out of the terrible spiral that you are in due to alcohol addiction. Indeed, it can be hard to stop drinking without professional help. Our program for alcohol rehab in Los Angeles utilizes some of the best treatment options that are shown to be the most effective. We customize a plan to meet your specific needs. The first step is a complete evaluation where we analyze the situation and determine whether you have any other conditions that we need to treat. We offer dual diagnosis treatment for those who have underlying conditions such as anxiety or PTSD, among others.
Get the Help You Need
Now is the best time to start on your path to recovery. At LA Treatment Center, we offer comprehensive inpatient and outpatient programs to assist you in overcoming your addiction. We have a team of experts who are available to you at all times to assist you with the process. We want to help you succeed. You can overcome your alcohol abuse problem and regain control of your life.
Alcohol Rehab Los Angeles
LA Treatment Center
(888) 200-4926
17801 Twilight Ln
Encino
CA
91316
View Larger Map