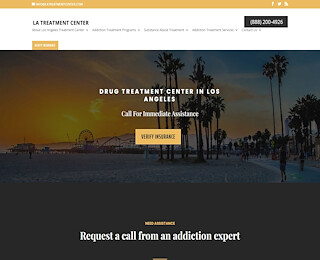 Alcohol is an addictive substance. If you become dependent on alcohol, you could suffer from alcoholism. It is difficult to stop drinking, especially on your own. The best solution is to seek professional help from a reputable alcohol treatment center in Los Angeles. Recovery does not need to be scary or traumatic. We provide you with a safe and caring environment as you start the road to recovery.
What are the Steps of Alcohol Treatment?
When you enter an alcohol treatment center in Los Angeles, you will undergo an exam and evaluation. One of the first steps is to undergo detoxification. The alcohol detox process allows you to go through withdrawal with assistance from a compassionate and caring staff. In some cases, you may be a candidate for medical detox, which utilizes medication to reduce the symptoms of withdrawal.  Once your body is rid of the toxins of alcohol, you are ready to continue with therapeutic treatment. You will learn what triggers your need for alcohol and how to prevent relapse.
Alcohol Addiction Recovery
 Whether you choose inpatient or outpatient treatment, you will need to work through some of the issues that contributed to your alcohol addiction. Some of the treatments may include individual and group therapy, couples or family therapy, wellness and nutrition education, and more. Each program will be customized to meet your particular needs. At our alcohol treatment center in Los Angeles we have a team of highly trained professionals who will guide you through the recovery process. We are available to assist you at any time. We create a program that meets your needs and will be likely to be the most successful.
What is Dual Diagnosis Treatment?
Many people who suffer with addiction have an underlying condition. In these instances, you will benefit from dual diagnosis treatment. Some of the conditions that you may have include depression, anxiety, and post-traumatic stress disorder, among others. Our professional staff is trained to work with dual diagnosis treatments. Dual recovery focused treatment works to care for all of your issues at the same time. Your program may include mood stabilization and monitoring, coping skills for managing mental health disorders, medication management, motivational enhancement therapy, recreational therapy, counseling and discharge planning and more.
Alcohol Treatment Center in Los Angeles
When you undergo alcohol treatment you will change your life for the better. Alcohol addiction can cause you to have difficulty at work, problems with relationships and can prevent you from having goals and happiness in your life. The recovery process is harder when you try to accomplish it on your own. You will be able to be more successful when you seek help from a leading alcohol treatment center in Los Angeles. We have the resources and the skilled team in place to help you every step of the way. We want you to be successful and to end your alcohol addiction for good. Contact LA Treatment Center today to learn how we can help you or your loved one overcome addiction.
Alcohol Treatment Center Los Angeles
LA Treatment Center
(888) 200-4926
17801 Twilight Ln
Encino
CA
91316
View Larger Map