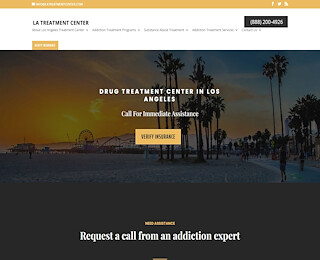 Although there are many drug and alcohol treatment centers in Los Angeles County, few of them compare to LA Treatment Center! Here, we provide a discreet location that is unknown to the general public, and we combine the best facilities with the best staff and the best drug and alcohol rehabilitation program to give you the overall best treatment center in LA. If you are interested in getting clean in a remote, private rehab setting, then you're in the right place now. Call our toll free number today and verify your insurance.
What's the Hype Over LA Treatment Center?
First, LA Treatment Center is a private rehab. This means that our patients are individuals who need, desire and cherish their anonymity in rehab. Sometimes, affluent people, entrepreneurs, public figures, board members, managers, public figures, and other people within the public spotlight need to get drug and alcohol treatment too, and traditional rehab just won't cut it for them.
Why is LA Treatment Center a Private Drug and Alcohol Rehab?
Let's face it; despite more than a century of awareness in Western culture regarding drug and alcohol abuse, addiction, and its impact on people, there is still a negative social stigma attached to drug and alcohol addiction. Even when a person is getting the treatment they need to better themselves, a lot of people will still look at them with a crooked eye.
Of course, you don't have to be an affluent, famous, or a public figure to value privacy in alcohol and drug treatment. Being seen in a drug rehab facility, whether it's inpatient or outpatient, could have unintended consequences. For example, say you apply to a company for an open position that you really want, but the hiring manager saw you last week at a rehab facility when you were showing up for outpatient treatment. He may not hire you because of it. He may ask you if you have a history with drugs or alcohol, and then what? Whether you lie or tell the truth, it's still going to be a poor reflection on you.
Being a Small Rehab Means We Can Better Allocate Our Resources
Being a private rehab is just one of the things that make LA Treatment Center one of the best drug and alcohol treatment centers in Los Angeles County. For example, all of our patients get an incredible amount of one-on-one coaching and counseling. Meanwhile, the average drug and alcohol rehab in Los Angeles is overcrowded and underfunded. On top of that; LA Treatment Center takes an entirely different approach to recovery. Rather than forcing our patients to participate in endless groups and counseling sessions, we let them recover at a pace that works for them. We promote holistic healing, slow healing, and we are not afraid to leave our patients alone with their thoughts for a while. We don't think that doing so is a bad thing.
Drug And Alcohol Treatment Centers In Los Angeles County
LA Treatment Center
(888) 200-4926
17801 Twilight Ln
Encino
CA
91316
View Larger Map