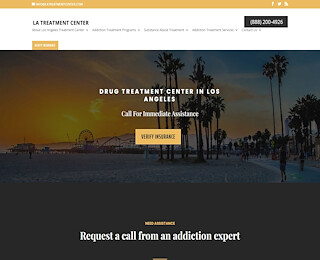 If you or someone you love needs treatment in a quality drug rehab center in Los Angeles, don't waste any time! Addiction is a disease that progresses rapidly and just as rapidly deteriorates the physical and mental health of its hosts. Also, people who are in active addiction are typically much more likely to engage in high-risk behavior and put themselves in situations where bad things can happen. For example, depending on the substance in question, the environment in which substance abuse is occurring, the individual who is abusing the substance, and the peers who are influencing the individual; it's not uncommon for people in active addiction to engage in any of the following behaviors, especially if there is a co-occurring psychological disorder is present:
Crime of any kind (theft, prostitution, violence, etc.)
Driving under the influence
Suicide attempts
Going to dangerous places
Getting caught in the middle of a bad situation
Cheating on their spouses
Exposing their children to harm
Letting their guard down in environments in which they shouldn't
Of course, we're just scratching the surface. The point is; it's a race against the clock! If you or someone you love has become addicted to drugs or alcohol, don't wait until it's too late to seek treatment! Get the help you need now from the best rehab in Los Angeles! Call LA Treatment Center today.
What Should I Do if My Loved One Needs Drug Rehab in Los Angeles?
Watching someone you love suffer through addiction can be heartbreaking. Often overlooked; it is the people who suffer alongside the addicted person who usually get hurt just as much, if not more than the addict does. Yet, these silent sufferers get little-to-no attention. Do yourself a favor, once you get help for your loved one, consider getting some professional therapy for yourself also.
Watching someone you love self-destruct can rip your heart out and subject you to untold emotional chaos. People often struggle to try to choose between compassion and tough love. Which approach is best? The answer is; it depends. Each case is different.
How to Get Help for Someone Who Needs Drug Rehab in Los Angeles
If you are tired of watching the person you love destroy their future with drugs or alcohol, and you've already tried to talk to them, but to no avail, you may need to arrange an intervention. Please, don't attempt to do this yourself as you probably will only exacerbate the problem. You need a professional who is qualified to conduct an intervention, and LA Treatment Center can put you in touch with the right people.
If you haven't yet approached your loved one about trying drug rehab in Los Angeles, do so in a loving way. Approach them at the right time, and be sure not to ambush them. Don't force them. Tell them how much it hurts you to watch them hurt themselves. If your efforts go unheeded, then you might not want to waste too much time in arranging an intervention.
Drug Rehab Los Angeles
LA Treatment Center
(888) 200-4926
17801 Twilight Ln
Encino
CA
91316
View Larger Map