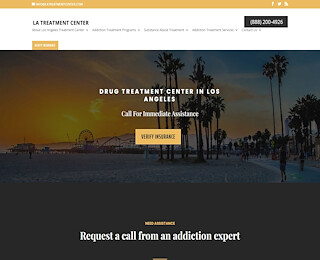 Drug addiction is a medical problem that affects many thousands of people across the country. While it is easy to become addicted to drugs, it is not as easy to stop using them. Once you realize that you have a problem, it is often too hard to quit. You need professional help from a reputable drug treatment center in Los Angeles.
What is Drug Addiction Treatment?
Drug addiction is a serious condition that is difficult to resolve on your own. The professional treatment provides you with the expert care and therapy that will help you resolve the addiction for good. A drug treatment center in Los Angeles may include a detoxification period that we follow with an intensive therapy program. We offer a variety of therapy choices based on your particular needs. The goal of an addiction treatment program is to rid your body of drugs and then provide you with the tools you need to remain drug-free.
What to Expect at the Drug Treatment Center in Los Angeles
When you enter our drug treatment center in Los Angeles, you will have access to some of the best resources in the area. We have a team of experts who are passionate about helping people overcome addiction. The first step is to evaluate your condition and determine your needs. The detoxification period is the period that your body needs to return to normal with no drugs in your system. Sometimes medical detox will reduce your withdrawal symptoms to make the process easier. Then, you will participate in a selection of therapy and other treatments that will get you on the road to recovery.
What Programs Are Available to Treat Drug Addiction?
We design the programs at our drug treatment center in Los Angeles based on your specific requirements. Our team of skilled and compassionate therapists and doctors will evaluate your condition and provide a treatment plan that is most likely to be successful. Your program may include individual therapy, group therapy, nutritional education, and more. If you suffer from a dual diagnosis, we will treat both conditions at once. For example, you may have anxiety, depression, PTSD, or any others. This underlying condition could be contributing to your drug addiction. Our unique treatment program will get to the root of the situation so you can learn to be drug-free for life.
LA Treatment Center
At LA Treatment Center, we are known for our high-quality, customized addiction treatments. Our team of compassionate and knowledgeable professionals is available to assist you through every step of the recovery process. We will help you learn what triggers your addiction and teach you healthy alternatives so you can remain free of drugs in the future. We make drug rehab as easy and stress-free as possible. We understand the many phases you will go through and will assist you in achieving success. Our team is non-judgmental, and we take your recovery seriously. Look no further than LA Treatment Center to get on the path towards a happy and healthy lifestyle that is free from drugs.
Drug Treatment Center Los Angeles
LA Treatment Center
(888) 200-4926
17801 Twilight Ln
Encino
CA
91316
View Larger Map