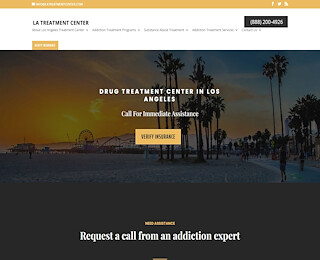 LA Treatment Center is one of LA County's best-kept secrets in terms of drug and alcohol treatment centers. Across California and throughout the United States, the statistics are alarming when it comes to long-term recovery from drugs and alcohol. For example, a whopping 82% of all people who complete an inpatient and or outpatient treatment program will relapse within two years. This means that only 18% of all people who complete treatment or drug and alcohol dependency will actually get clean and stay clean. The rest will not.
Further, the majority of the 82% who relapse following the completion of drug and alcohol rehab will do so within the first 90 days of program graduation. However, we are seeing a big improvement at LA Treatment Center, which is by far one of the most successful LA County treatment centers in existence. Our program works, and we invite you to check us out if you or someone you know is struggling with addiction.
Why Does Our Treatment Center Perform So Well?
Our drug and alcohol program is one-of-a-kind! There are several reasons why LA Treatment Center outperforms other LA County treatment centers in terms of helping patients attain long-term sobriety. Of course, it's not always the treatment center's fault when a former patient relapses, but with statistics as dismal as the ones quoted above, there's no question that LA County treatment centers need to look at what they are doing and consider making some adjustments.
LA Treatment Center is a Slow-Paced Recovery Center
At LA Treatment Center, we take a laid-back approach to recovery that our patients appreciate. This doesn't mean that LA Treatment Center is not a serious rehab. We expect our patients to work their recovery program. When a patient comes in for treatment, we will coordinate with them to create the perfect recovery plan. Of course, every rehab does that.
The difference is that LA Treatment Center respects our patients' privacy and their right to decide for themselves, rather than forcing them to do what we want them to. In real life, the patient isn't going to have someone telling them to go to a meeting, go to counseling, eat now, go to another group, etc. They are going to have to decide for themselves whether or not to do the right thing and whether or not to work their recovery, and they might as well start doing that now in a controlled, safe, and supervised environment.
We Give Our Patients the Attention They Need
Additionally, at LA Treatment Center, our patients benefit immensely from the one-on-one counseling and hands-on attention that is synonymous with our LA County treatment center. Because ours is a private treatment center, we don't admit large numbers of patients at once. This means that our staff is available to the patient at all times.
The numbers show that patients recover more fully in LA County treatment centers that provide more personalized care, as opposed to the sardine-in-a-can rehab environments that are prominent in LA County.
LA Treatment Center
(888) 200-4926
17801 Twilight Ln, Encino, CA 91316
View Larger Map