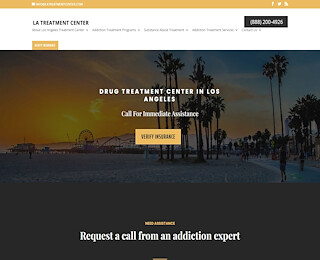 LA Treatment Center is a private rehab that protects the anonymity of our patients. You don't have to be a high profile individual to benefit from a private rehab setting. At LA Treatment Center, we treat people from all walks of life, social status, and income levels. Our treatment center was designed to help our community break free from the bondage of drug and alcohol addiction discreetly, and our entire staff is passionate about addiction treatment.
LA Treatment Center goes above and beyond other regional treatment centers to provide a comfortable rehab setting that fosters introspection, recovery, and personal growth.
Bring Your Pet
Research has shown that people do better in rehab when they have their pets with them. Unfortunately, very few drug and alcohol rehabs in LA are pet-friendly. LA Treatment Center invites you to bring your furry pal with you to rehab. We typically accept cats and dogs, but all other kinds of pets will have to be individually approved. Exotic animals are not permitted, but if you have an iguana, fish, or even a tarantula, we can most likely accept.
By bringing your pet to rehab with you, you won't have to find someone to take care of it while your gone or experience separation anxiety.
Do You Have an Underlying Mental Health Condition?
At LA Treatment Center, you will work hand-in-hand with your counselors to get to the root of your addiction. Addiction is never a stand-alone problem - it is a symptom of something else. That "something else" may or may not be a mental health condition, but as many as 66% of all people who suffer from addiction have an underlying mental health disorder, such as PTSD, depression, anxiety, etc. Since addiction and mental health disorders bring about many of the same symptoms, underlying mental health conditions often go unnoticed and are chalked up as being a result of the addiction.
You may or may not have had a mental health condition prior to your drug or alcohol addiction. If you do have a mental health issue, it may or may not be a result of your addiction. Still, one thing is for sure; treating the addiction without treating your mental health condition is a recipe for relapse! LA Treatment Center can diagnose, treat, prescribe medication (always a last resort), and provide ongoing care for any dual diagnosis condition.
LA Treatment Center Provides Detox, Inpatient, Outpatient, and Sober Living
LA Treatment Center is an A - Z drug and alcohol treatment center in LA, providing a full suite of private rehab treatment options. For example, many people who are addicted to harsh substances are at risk of withdrawal symptoms when they quit using, which can range from mild to deadly. Therefore, medical detox is often needed to help the patient stay safe and comfortable. Following detox (if needed), the patient will then transition into inpatient treatment (with or without their pets), followed by outpatient or sober living facilities or both.
LA Treatment Centers
LA Treatment Center
(888) 200-4926
17801 Twilight Ln
Encino
CA
91316
View Larger Map