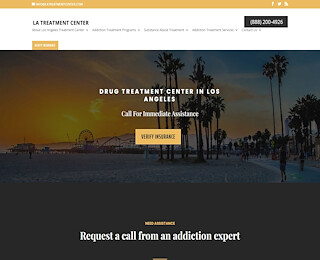 If you find that you have an addiction to drugs or alcohol, it is difficult to resolve on your own. Your addiction can take over your entire life and cause problems with your relationships and with your job. You want to stop, but addiction is powerful and affects both the body and the mind. You can break free from your addiction at a professional Los Angeles treatment center.
What Can I Expect At a Los Angeles Treatment Center?
We offer two main types of treatment options, including inpatient treatment and intensive outpatient treatment. We often recommend inpatient treatment because you can get away from the stresses of daily life to focus on your recovery. If you can't leave your home, work, or school obligations, you may be able to participate in an intensive outpatient program. The first step in any treatment program is the detoxification period. We offer medical detox for some patients at our Los Angeles treatment center. Medical detox provides you with medication that reduces withdrawal symptoms.
What is Dual Diagnosis Treatment?
Dual diagnosis means that an individual suffers from a co-occurring mental health disorder along with substance use. Some of the most common examples of conditions include anxiety, depression, and PTSD. When you have a mental health disorder, it is something that likely has an impact on your substance use and vice-versa. Our Los Angeles treatment center specializes in programs that treat both of the conditions at once. We have a team of experts who have specific training in both areas so you can get the comprehensive treatment that you need.
Physical and Psychological Healing
Addiction affects the body and mind, and therefore, we provide treatments that promote physical and psychological healing. We have a team of professionals who are dedicated to compassionate care. We understand addictions and know the best treatment programs to assist you on the path to recovery. When you enter our program, we evaluate your condition and determine your needs. Then, we customize a treatment plan that is most likely to succeed. Throughout the program, our team is here to guide and assist you, any time of the day or night. You never have to go through recovery on your own.
LA Treatment Center
At LA Treatment Center, we offer comprehensive addiction rehab programs that teach you new and improved options for a healthy lifestyle. You will gather the tools you need, so when you leave the facility, you will be able to create a happy and productive life. You will learn what triggers your addictive behaviors and how to prevent a relapse in the future. We take the time to make sure that your treatment program is providing you with everything you need to overcome your addiction. Our comfortable facility offers everything you need while you focus on your recovery. Our team is here to make the process as easy and stress-free as possible. If you have a problem with drugs or alcohol, don't delay. You can take over your life with help from our Los Angeles treatment center.
Los Angeles Treatment Center
LA Treatment Center
(888) 200-4926
17801 Twilight Ln
Encino
CA
91316
View Larger Map