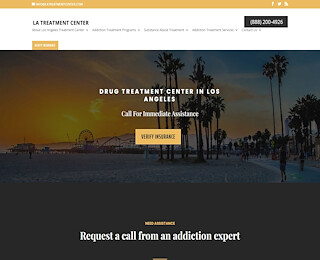 Are you looking for outpatient rehab in Los Angeles? If so, then you're in the right place now! LA Treatment Center is a one-of-a-kind inpatient/outpatient rehab in LA that uses state-of-the-art, science-driven addiction treatment models, along with traditional 12-Step treatment and holistic treatment techniques to help people get clean and stay clean from drugs and alcohol. Call us today for a free consultation and schedule an appointment for an assessment.
Are You a Good Candidate for Outpatient Rehab in Los Angeles?
Admittedly, outpatient rehab is not for everyone. There are some people who need inpatient treatment and or medical detox first. The good news is that LA Treatment Center provides all of these treatment options, in addition to sober living homes for residential inpatient rehab graduates.
Start by calling our toll-free number any time to speak with a live addiction counselor. Following a relatively brief conversation and assessment, your addiction counselor will establish a treatment plan that may include outpatient rehab or other treatment options.
Of course, patients who have recently graduated from our inpatient rehab program may be enrolled in our outpatient program as well, as outpatient treatment is a great way to maintain the relationships, structure, and support that you will have made in our inpatient treatment program.
Many of our patients are those don't have the ability to leave their work, leave their children, or they may have legal obligations that prohibit them from entering an inpatient rehab program. These are typically the ideal candidates for our outpatient services.
What Kind of Outpatient Rehab Programs are There?
Outpatient treatment for drugs and alcohol can be broken down into two distinct categories:
1. Standard/Regular Outpatient Treatment
2. Partial Hospitalization/Intensive Outpatient (IOP) Treatment
There's no way to know which kind of outpatient rehab will be best for you until we perform an assessment.
Standard outpatient treatment might only require you to show up once or twice a week for an hour at a time. On the other hand, IOP treatment is usually five days a week for three to five hours at a time. That is why IOP is commonly referred to as partial hospitalization.
What are the Benefits of Outpatient Rehab in Los Angeles?
As mentioned; outpatient treatment can provide the ongoing support and structure that inpatient rehab graduates need. It's easy to get clean in an inpatient rehab facility, but it's not as easy to stay clean once you've gone home. Outpatient rehab helps to foster long-term sobriety and give patients the best possible chances to succeed in their sobriety.
Also, outpatient treatment can be good for people with a strong support network in place who prefer a more laid-back approach to recovery rather than the go, go, go of traditional rehab programs.
Further, standard outpatient treatment, along with intensive outpatient treatment, provide a means for individuals to get drug and alcohol treatment when residential inpatient is not possible.
Outpatient Rehab Los Angeles
LA Treatment Center
(888) 200-4926
17801 Twilight Ln
Encino
CA
91316
View Larger Map