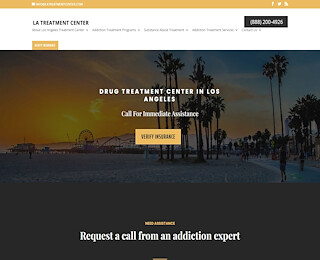 At LA Treatment Center, we offer high-end therapies, medical services, and life coaching, allowing you to defeat your addiction and get your future back. Call us, visit our treatment center in LA today, and start the treatment as soon as possible!
What you need to know about addiction
There are two things you must keep in mind with regards to substance addiction:
It is a chronic disorder
There are no effective self-help procedures
The fact that it's chronic means that there is no medical cure to talk about. The only thing you can do, as with any chronic disease, is to manage the symptoms and prevent relapsing over the years. Secondly, self-treatments are deceptive and will usually bring more problems than solutions. Self-medication is not only ineffective at preventing long-term relapse but dangerous as well, as you risk encountering severe drug interactions and side-effects.
To solve all these issues, you need to begin seeking professional assistance immediately. It is the only way to make sure you can regain your freedom and prevent the disease from ever returning.
How does the rehab work?
The rehabilitation process is similar for all types of chemical addiction and consists of several key procedures:
Preliminary clinical assessment – This is where our clinician will diagnose your health status and build your clinical profile. Depending on the findings, we will recommend the ideal approach for fast, long-lasting results.
Detoxification and cleansing – Our primary mission is to help your body detox, eliminate the substance from the system, and reduce the impact of the withdrawal. At our treatment center in LA, we achieve that by resorting to a targeted medication plan designed to fit your physiological needs perfectly.
Therapy and counseling – This is the most extended part of the treatment, which will allow you to regain your psychological and emotional functioning. We offer long-term therapeutic assistance, which includes behavioral therapy, emotional and spiritual healing, experiential therapies, etc.
At the same time, we offer continuous educational support and aftercare assistance, making sure you remain sober and healthy long-term. For more details about the rehab process, feel free to give us a call!
Is rehab painful?
The rehabilitation process will include a certain level of discomfort, especially during the detoxification procedure. Depending on the severity of the withdrawal, you might experience both physical and psychological distress, which is why it is essential to come to our facility today. Our experts will make sure you experience an as little discomfort as possible, as they will be supervising the entire detox procedure 24/7.
We use medication to diminish and even eliminate the symptoms of withdrawal, as well as providing you with fast detox and long-lasting benefits. At our treatment center in LA, we offer leading rehab services, 24/7 support to ensure a fast recovery, and consistent aftercare and relapse prevention assistance. Our treatment will represent your first step towards a life of sobriety and personal fulfillment.
Contact our specialists, at LA Treatment Center, and ask for details about our programs! The sooner you begin the rehab, the faster you will be able to get your life back.
Treatment Center LA
LA Treatment Center
(888) 200-4926
17801 Twilight Ln
Encino
CA
91316
View Larger Map