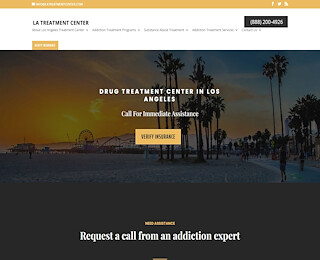 Having changed the lives of thousands over the years, we, at LA Treatment Center, have discovered the answer to combating substance addiction effectively, for long-term results. Our treatment center in Los Angeles features some of the most advanced rehabilitation programs available right now.
How to defeat addiction?
The only way to move past your addiction is by asking for professional assistance today. You should understand that you're not dealing with a regular chronic disorder. Unlike diseases like diabetes, asthma, cancer or arthritis, chemical addiction comes with a new type of danger – the delusion of self-control. Most addicts who refuse the treatment do so because they are delusional; they believe they have no problem or that the problem is minor and they can handle it.
By the time reality hits in, it may already be too late. To defeat your addiction, you need expert assistance fast. Our rehabilitation program offers gradual levels of care, relying on a results-oriented holistic approach. We're interested in providing you with long-term benefits, as we focus on addressing the core of the problem, rather than addressing the symptoms.
What is holistic recovery?
Holistic recovery involves a type of treatment that addresses the whole range of problems that the patient will experience, including physical, psychological, and spiritual. We have been using this approach for years, as studies show that it's the most effective approach to dealing with incurable disorders. Your only chance of overcoming your dependency is by getting to the roots of the problem, as well as adopting lifelong management and relapse prevention strategies.
At our treatment center in Los Angeles, you will undergo a multitude of rehab programs, including:
Medication-assisted detoxification and stabilization
Physical recovery (involving toxin cleansing, optimized nutritional intake, regular workout routines, etc.)
Behavioral and emotional therapies and healing
Spiritual rejuvenation through introspection and faith-based programs
Recreational and experiential therapies (yoga, meditation, group activities)
Educational support and relapse prevention teaching
Family assistance and social reintegration services, etc.
The importance of early intervention
Knowing how both substance addiction and alcoholism are progressive in nature, early treatment is vital for preventing the disorders from aggravating. If you're dealing with severe forms of withdrawal, you may need medical assistance fast. Addiction is an aggressive disease that will advance faster than you expect.
You need to act before the situation degrades any further, which implies coming in for urgent clinical assessment and diagnosis. Our clinicians will explain your situation on the spot, recommending the ideal course of action for the following months. You can then begin the rehab treatment and start changing your life, one day at a time.
Beginning a new life
To leave your addiction behind and start your life anew, you must adopt a series of permanent lifestyle improvements. At our treatment center in Los Angeles, you will learn about avoiding social triggers, prevent and counter compulsive behavior, eat healthier and exercise more, etc.
LA Treatment Center operates on the foundation of knowledge, expertise, and success. So long as you are mentally prepared to fight for your life, you will always find allies in our team of experts, at our Los Angeles facilities.
Treatment Center Los Angeles
LA Treatment Center
(888) 200-4926
17801 Twilight Ln
Encino
CA
91316
View Larger Map