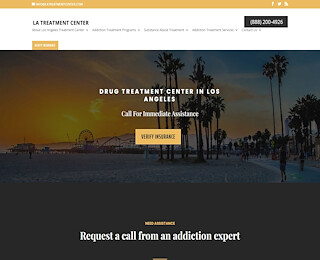 As you probably already know if you have done any searching online, there are countless treatment centers in LA for drugs and alcohol. We encourage you to start your search with LA Treatment Center. Note, our rehab is not for everyone. We do not admit a lot of patients at once. In fact, we run a private rehab facility. We offer residential inpatient treatment, outpatient/intensive outpatient (IOP) treatment, and sober living options for our inpatient program graduates.
Do I Need Inpatient Treatment?
Are you dealing with an addiction problem that has consumed your life? In other words, do you find yourself expending massive amounts of time and energy in locating, gathering, and using your substance of choice? Has it started to interrupt other areas of your life and cause you to lose interest in things that you once enjoyed? If so, you may have a severe addiction problem. If that is the case, you will likely need inpatient treatment.
LA Treatment Center Provides Customized Treatment Plans
Of course, LA Treatment Center is not irresponsible enough to apply blanket treatment plans to everyone. The only way we can help you come up with a treatment plan that is right for you is if we consult with you first. We will need to talk with you and conduct an assessment. Based on our findings, we can then formulate a recovery plan that meets your needs and goals. That may or may not involve inpatient treatment or other kinds of addiction treatment.
Why Choose LA Treatment Center?
For most people who have lost control to addiction, residential inpatient treatment really is the best option. Some individuals have addictions to hard drugs and or alcohol, and quitting these lethal substances can lead to withdrawal symptoms, which themselves, can be deadly. That is why LA Treatment Center has medical detox, residential inpatient treatment, outpatient treatment, and sober living homes. We take our patients through the entire progression of addiction treatment to provide for their needs now and to continue to provide care on an ongoing basis.
There are a lot of treatment centers in LA, but they are not all created equally. LA Treatment Center takes a much more laid-back approach to recovery. Of course, our patients have counseling sessions, and we want to see them take steps to work their recovery program, but we are not into forcing people to do what they don't want to. The fact is; what works for one person may not work for you in terms of addiction treatment. We know that our patients are with us because they want to get clean, and no matter how much anyone else wants you to get clean, you'll only do so if you want it more than anything else!
We feel that it is our job to provide our clients with the tools, resources, and education they need to identify triggers, identify cravings, and take the appropriate steps to protect themselves. This includes finding a sponsor, establishing a support network, self-reflection, and learning how to fight temptations.
Treatment Centers in LA
LA Treatment Center
(888) 200-4926
17801 Twilight Ln
Encino
CA
91316
View Larger Map